"Magic" Earvin Johnson
Born in the united state of America Earvin Johnson Jr proudly the "Magic", Johnson is a retired professional basketball player who currently the president of basketball operations of the Los Angeles Lakers of the National Basketball Association (NBA). He played point guard for the Lakers for 13 seasons. After winning championships in high school and college, Johnson was selected first overall in the 1979 NBA draft by the Lakers. He won a championship and an NBA Finals Most Valuable Player Award in his rookie season, and won four more championships with the Lakers during the 1980s. Johnson retired abruptly in 1991 after announcing that he had contracted HIV, but returned to play in the 1992 All-Star Game, winning the All-Star MVP Award. After protests from his fellow players, he retired again for four years, but returned in 1996, at age 36, to play 32 games for the Lakers before retiring for the third and final time.
Johnson's career achievements include three NBA MVP Awards, nine NBA Finals appearances, twelve All-Star games, and ten All-NBA First and Second Team nominations. He led the league in regular-season assists four times, and is the NBA's all-time leader in average assists per game, at 11.2. Johnson was a member of the 1992 United States men's Olympic basketball team "The Dream Team", which won the Olympic gold medal in 1992. After leaving the NBA in 1992, Johnson formed the Magic Johnson All-Stars, a barnstorming team that travelled around the world playing exhibition games.  Johnson was honored as one of the 50 Greatest Players in NBA History in 1996.
College career
Although Johnson was recruited by several top-ranked colleges such as Indiana and UCLA, he decided to play close to home. His college decision came down to Michigan and Michigan State in East Lansing. He ultimately decided to attend Michigan State when Coach Jud Heathcote told him he could play the point guard position. The talent already on Michigan State's roster also drew him to the program.
During the 1978–79 seasons, Michigan State again qualified for the NCAA Tournament, where they advanced to the championship game and faced Indiana State, which was led by senior Larry Bird. In what was the most-watched college basketball game ever, Michigan State defeated Indiana State 75–64, and Johnson was voted Most Outstanding Player of the Final Four.  He was selected to the 1978–79 All-American team for his performance that season. After two years in college, during which he averaged 17.1 points, 7.6 rebounds, and 7.9 assists per game, Johnson entered the 1979 NBA draft. Jud Heathcote stepped down as coach of the Spartans after the 1994–95 season, and on June 8, 1995, Johnson returned to the Breslin Center to play in the Jud Heathcote All-Star Tribute Game. He led all scorers with 39 points.
Personal life
Johnson first fathered a son in 1981, when Andre Johnson was born to Melissa Mitchell. Although Andre was raised by his mother, he visited Johnson each summer, and later worked for Magic Johnson Enterprises as a marketing director. In 1991, Johnson married Earlitha "Cookie" Kelly in a small wedding in Lansing which included guests Thomas, Aguirre, and Herb Williams. Johnson and Cookie have one son, Earvin III (EJ), who is openly gay and a star on the reality show Rich Kids of Beverly Hills. The couple adopted a daughter, Elisa, in 1995. Johnson resides in Dana Point, California.
Johnson is a Christian and has said his faith is "the most important thing" in his life. In 2010, Magic Johnson and current and former NBA players such as LeBron James, Dwyane Wade, and Bill Russell, as well as Maya Moore from the WNBA, played a basketball game with President Barack Obama as an exhibition for a group of military troops who had been injured in action. The game was played at a gym inside Fort McNair, and reporters covering the president were not allowed to enter. The basketball game was part of festivities organized to celebrate Obama's 49th birthday.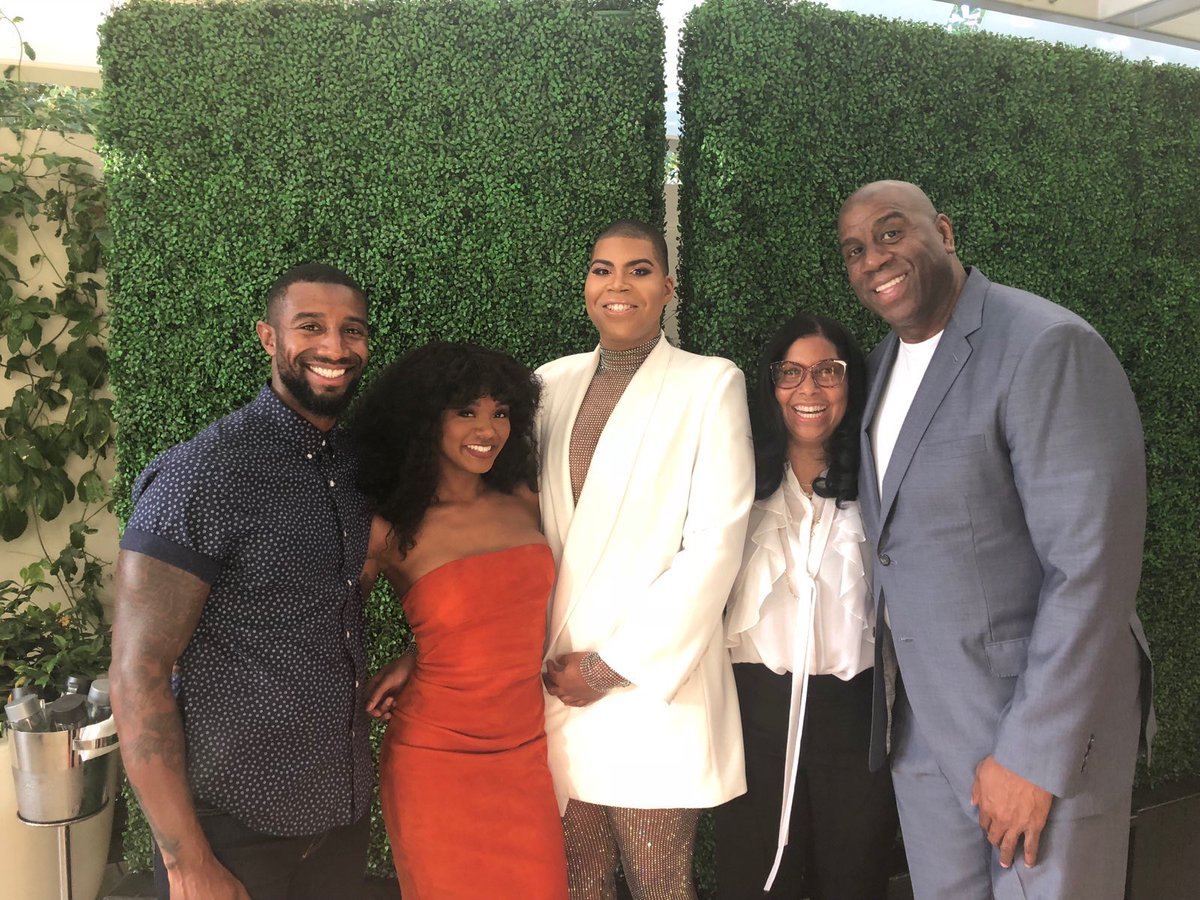 Media figure and business interests
Johnson giving a speech at the George R. Brown Convention Center in Houston, Texas on April 25, 2013.
In 1998, Johnson hosted a late night talk show on the Fox network called The Magic Hour, but the show was canceled after two months because of low ratings. Shortly after the cancellation of his talk show, Magic Johnson started a record label. The label, initially called Magic 32 Records, was renamed Magic Johnson Music when Johnson signed a joint venture with MCA in 2000. Magic Johnson Music signed R&B artist Avant as its first act.  Johnson also co-promoted Janet Jackson's Velvet Rope Tour through his company Magicworks.  He has also worked as a motivational speaker, and was an NBA commentator for Turner Network Television for seven years, before becoming a studio analyst for ESPN's NBA Countdown in 2008.
Career achievements
A display of yellow basketball jerseys bearing the names and uniform numbers of players
Johnson's number 32 jerseys were retired by the Lakers in 1992.
List of career achievements by Magic Johnson
In 905 NBA games, Johnson tallied 17,707 points, 6,559 rebounds, and 10,141 assists, translating to career averages of 19.5 points, 7.2 rebounds, and 11.2 assists per game, the highest assists per game average in NBA history. Johnson shares the single-game playoff record for assists (24), holds the Finals record for assists in a game (21), and has the most playoff assists (2,346). He is the only player to average 12 assists in an NBA Finals series, achieving it six times. He holds the All-Star Game single-game record for assists (22), and the All-Star Game record for career assists (127).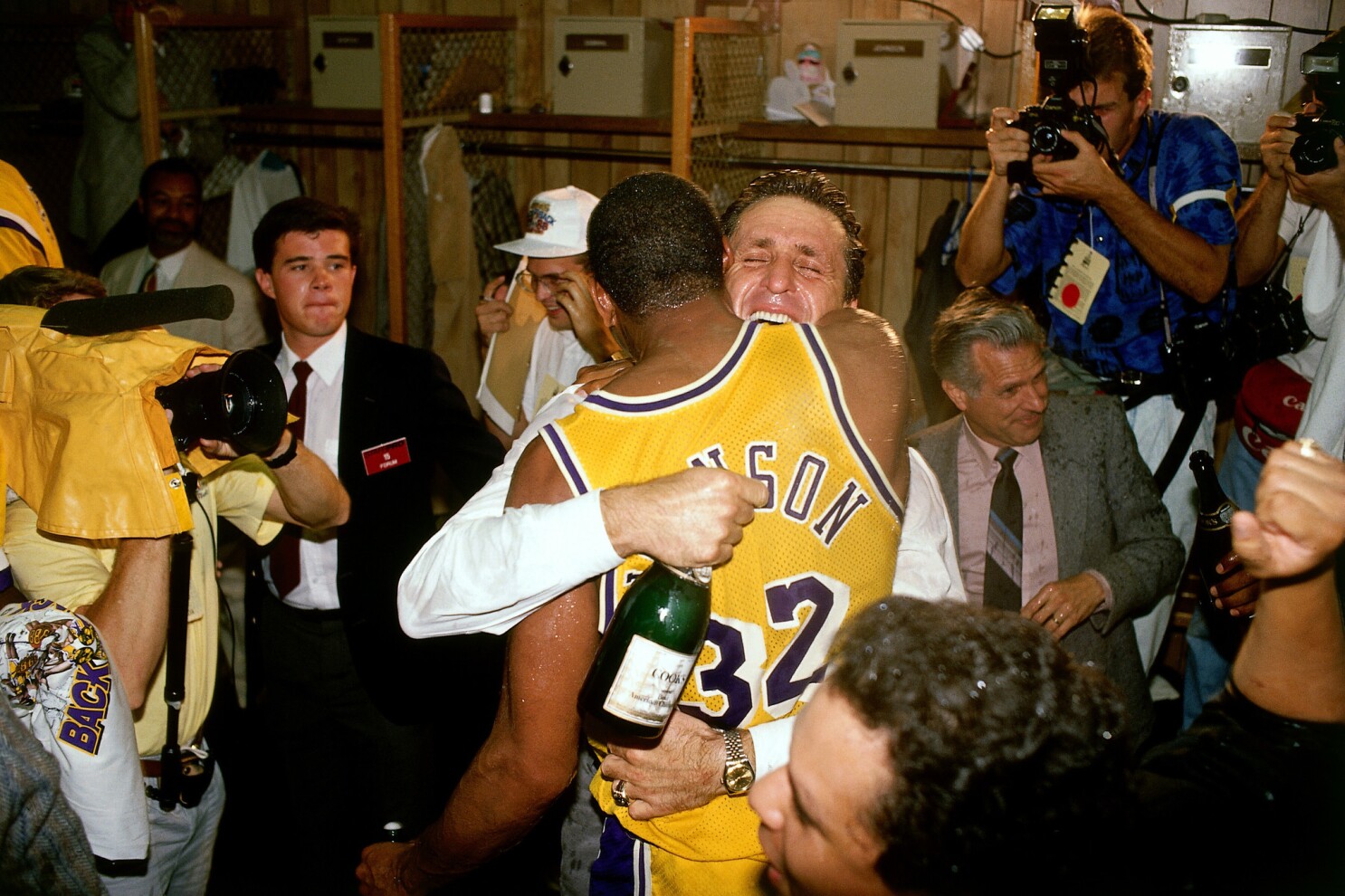 NBA career statistics
  GP        Games played      GS        Games started    MPG     Minutes per game
 FG%      Field goal percentage      3P%      3-point field goal percentage       FT%      Free throw percentage
 RPG      Rebounds per game         APG      Assists per game               SPG       Steals per game
 BPG      Blocks per game                PPG      Points per game                Bold      Career high
That was all about Magic Johnson, don't forget to check our dope merch of Magic Johnson here
---
Older Post
Aaron Gordon "Air Gordon"
Newer Post
The top 5 basketball hoodies for you in 2021 - Hoop Merch